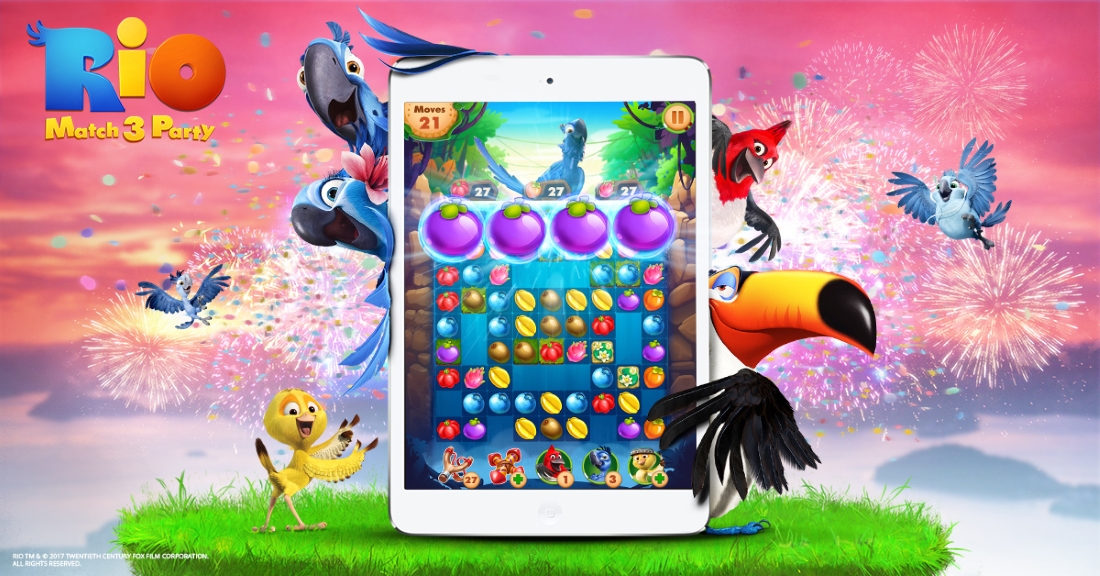 The Animated Franchise Will Get Its Own Genre-Bending AAA Mobile Game on iOS and Android.
Plarium, a developer of mobile, social, and web-based games with over 250 million users, today announced a partnership with Twentieth Century Fox to bring the Academy Award-nominated Rio franchise to fans worldwide on Android and iOS mobile devices with Rio: Match 3 Party.
Releasing this spring, the game features a creative mix of match-3 puzzles, mini-games, and character collection to create a fun and exciting Rio experience for players of all ages. The game will also feature fan-favorite characters from the film including Blu, Nico, Jewel, Roberto, Gabi, Luiz, Pedro, Rafael, Bia, and more.
"Blu is back," said Rick Phillips, EVP of Fox Interactive. "We're excited to embark on this new Rio adventure with our trusted partners at Plarium. This new game promises to create a fun twist on puzzle games with the vivid colors and characters of Rio."
Rio (2011) and Rio 2 (2014) feature a star-studded cast lead by voice work from Jesse Eisenberg (Social Network, Batman v. Superman) that follows the adventures of Blu, a rare Blue Spix's Macaw, as he makes his way through Rio de Janeiro, and the jungles of the Amazon. The new Rio mobile game will allow fans to play through these beautiful and iconic locations.
"Through our partnership with Fox, we're bringing a beloved animated franchise to all the fans around the globe in a completely new and compelling way," said Avi Shalel, CEO at Plarium. "The game will offer a true AAA mobile game experience that will push the limits of visual fidelity, while emphasizing the authenticity of the characters that made Rio a hit in the first place."
This is the second partnership between Plarium and Twentieth Century Fox. For more information on Rio: Match 3 Party as it develops, please visit: plarium.com.
More information
VentureBeat: Plarium makes match-3 mobile game with Fox's Rio animated characters.
IMDb: Plarium and Fox bringing Rio to mobile devices with Rio: Match 3 Party.
Flickering Myth: Plarium and Fox bringing Rio to mobile devices with Rio: Match 3 Party.
PocketGamer: Plarium partners with Twentieth Century Fox to bring children's film Rio to match-3.