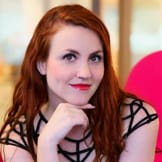 Sofya Borodyanskaya
Media Buyer / Affiliate Manager
I joined Plarium 4.5 years ago. Instead of pursuing a career in resolving international political conflicts (reflecting my education), I decided to follow my dreams and work in advertising.
I joined the marketing team at Plarium as a web team coordinator and after a short period of time was promoted to Senior UA manager. I was given a lot of mentoring as well as the right tools to learn and grow.
Unlike a lot of other companies where you are expected to work within a very narrow scope of work, Plarium encourages employees to get involved. You end up participating in creative brainstorming sessions of a new game concept to data analysis using premium tools - Plarium is at the forefront of new marketing trends, which enables employees to explore, evolve and innovate.
When the product is a game that you love working on, it doesn't get much better than that. Work hard, play hard is pretty much what I do!