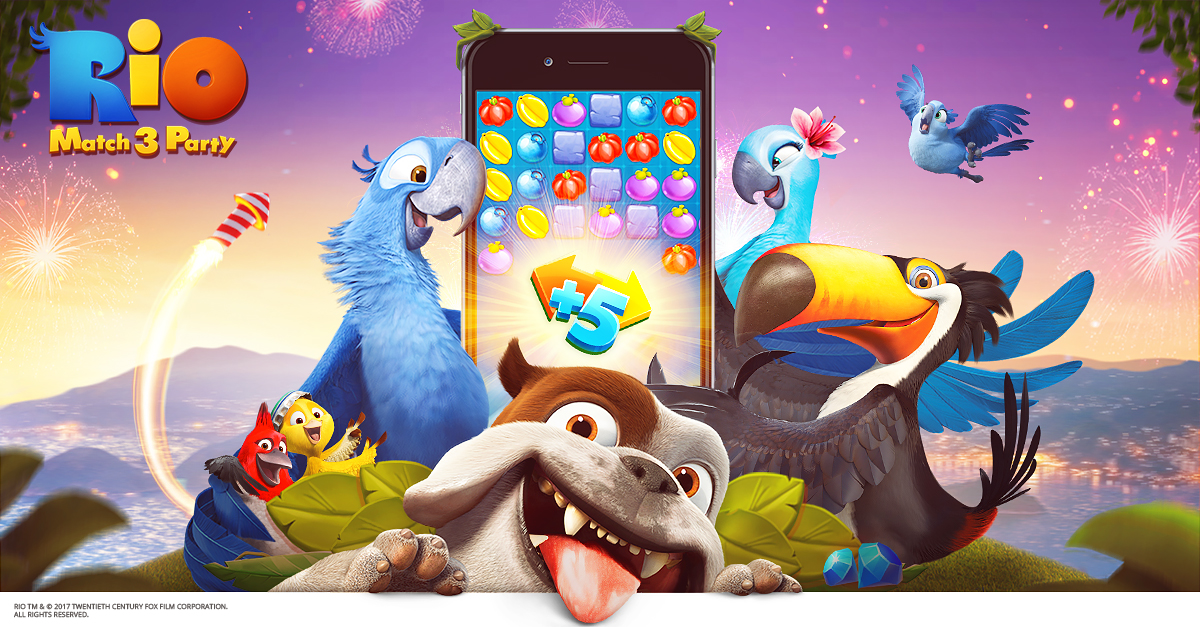 The Rio Film Franchise Comes to Life in a Match-3 Adventure; Jesse Eisenberg reprises his role as Blu.
Plarium, a developer of mobile, social, and web-based games with more than 250 million users worldwide, in partnership with Fox Interactive, today announces the launch of their latest AAA Match-3 game, Rio: Match-3 Party for Android and iOS devices. This family-friendly adventure combines fun and fast-paced puzzle mechanics with the vibrant star-studded world of the Rio franchise.
Players will explore the jungles of the Amazon and the streets of Rio de Janeiro as they help Blu, Jewel, Nico, Pedro and the rest of the Rio gang throw the best parties Brazil has ever seen. From stunning locations and colorful stories, to over 15 hours of fully-voiced interactive character dialogue including Jesse Eisenberg returning as Blu, Plarium delivers everything players expect from the acclaimed franchise.
"Rio combines the signature AAA production values and depth of Plarium's flagship mobile titles with the casual gameplay of Match-3 to create something really special," says Gabi Shalel, CMO of Plarium. "Knowing how much fans love the energy, characters, and adventures of the Rio world, we had to go beyond what people expect from a typical Match-3 game. With accessible, yet challenging gameplay, detailed 3D character animations, lush environments, and fully-voiced interactive dialogue, we feel that we've set a new gold standard for the genre."
Players will work their way through hundreds of levels as they master special challenges, meet new characters, unlock unique abilities, and collect everything they need to throw parties across the exciting destinations from the films. With offline and online gameplay modes, players can go it alone or compete with their friends for top scores, free gifts, and tournament rankings.
Key features of the game include:
A Living, Breathing Rio Party Experience!
Match, crush and swipe your way through hundreds of re-playable levels as you explore the Amazon Jungle, city of Rio and Copacabana Beach – with new locations added all the time!
Progress by earning tickets and unlocking new levels. Watch the map change and evolve as you add balloons, banners, disco balls, live stages, and everything else you need for your party.
When you're ready to get down, watch it all come together as you finish each location with the biggest animated bash you've ever seen!
Hang Out With All Your Feathered Friends!
Collect your favorite characters from the Rio universe including Jewel, Nigel, Nico and more.
Power-up by earning gold and befriending new characters in the game, each with their own unique super special abilities.
Party With Friends
Log in with Facebook to send and receive gifts to your friends, see their progression on the map, and compete in tournaments to win prizes!
Rio: Match-3 Party is now available on App Store and Google Play for users around the globe in English, French, Spanish, Italian, German, Japanese, Korean, Simplified Chinese, Traditional Chinese, Turkish, Portuguese and Russian.
More information
The Hollywood Reporter: Jesse Eisenberg to Voice Mobile Game Character Tied to Fox's 'Rio'.
Yahoo News: Jesse Eisenberg goes back to Blu for 'Rio'-related mobile game.
PhoneArena: Animation movie Rio gets its own mobile game featuring the voice of Jesse Eisenberg.
VentureBeat: Plarium and Fox Interactive debut Rio: Match-3 Party mobile game.
AppTrigger: Plarium Announces Rio Match 3 Party For iOS and Android.
PocketGamer: Plarium launches Twentieth Century Fox-licensed Rio: Match-3 Party.