In the first of our articles, Vyacheslav Lisovsky, Plarium's Head of Cinematics, took time out of his busy schedule to tell us all about the animation and VFX design. Read below to find out all about how Plarium's animation team brought the action to life!
I think I should start by saying that when creating the "Moment of Glory" trailer, we were extremely lucky in that Plarium gave our team almost complete freedom to express ourselves and produce the trailer we all wanted. In contrast to short promotional videos, which are often used to marketing purposes, our goal for this trailer was simply to show how awesome Sparta: War of Empires is, and get people excited about our game.
Since our goal was so broad, we were free to do almost anything we wanted to with our trailer; and since the game is set in ancient Spartan times, we were hardly short of ideas. Eventually we settled on creating a huge battle scene, a spectacular fight between the Spartans and the Persians. Agreeing on a concept is always one of the hardest – and longest – parts of creating a cinematic animation, but it's also one of the most important. Once our team had agreed upon the idea, we set about creating a visual concept, demonstrating the pace, plot and highlights of our video, to get final approval.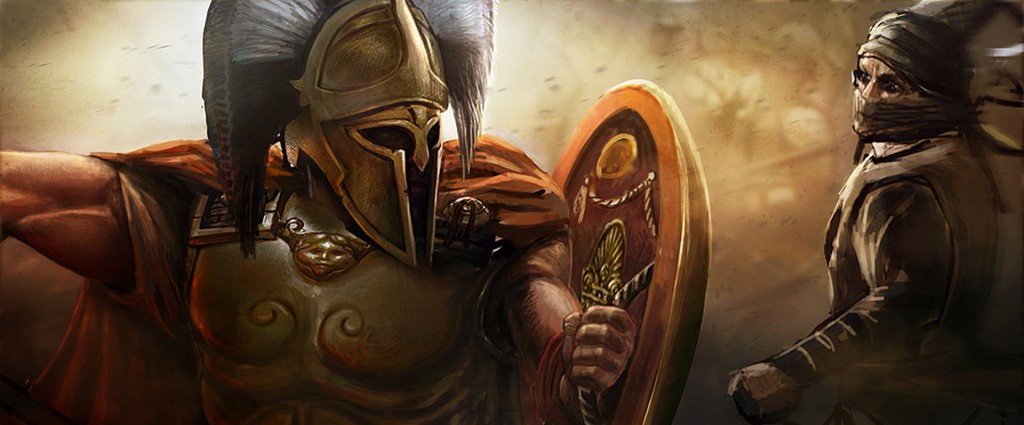 After the final concept is approved, we start work on the basic animatic design and the plot pattern; which also doubles as the skeleton for the future video. At this point, we get to finally find out what works, what doesn't work and what needs fixing based on our original concept. For example, in the beginning animatic stages, we had to completely redo the shot with the two armies facing each other, as the original shot didn't create the effect we wanted. At this stage, we can finally see how the video will feel, as it gets closer to its final shape.
With videos of this nature, you don't have a lot of time in which to impress your audience, so you need to be ready to do what needs to be done in a very tight visual space and make some tough decisions. If it becomes clear that a certain shot isn't impressive enough, you need to cut that shot out and replace it with something better, more engaging, or that better helps to tell the story.

Three of our animators worked on the animations almost round the clock for a month, manually creating the animations using the Autodesk Maya package. Although this method did allow us to achieve the realistic visuals we needed, we're hoping to be able to use motion capture technology for future projects.
Most of the difficulties we encountered during our animation process were in battle scenes in which we had to animate a lot of clothes and flexible materials. In this case, we referred to Marvelous Designer, a specialist software package that's been used in many different AAA works in the past. We could have used different software to serve this purpose, but since Marvelous Designer is designed for this exact purpose, it allowed us to streamline the whole process.

The largest undertaking of the whole video was the final shot; the huge scene where the two armies finally come together and fight. The number one goal of this scene was to bring the action to life, keeping the armies' movements as realistic as they possibly could be. Aleksandr Varzhainov, one of our animators, was given the not-so-simple task of making this all happen. In the end, Aleksandr ended up writing his own script to manage the movement of the armies, the troops' individual movements and their appearance. As for the final scene's landscape, we created the vegetation and scenery in V-Ray Multiscatter; the rocks, stones and even the ships in the background are fully-realized 3D models.
The "Moment of Glory" trailer is our team's second cinematic trailer. Looking back, there's a radical difference in quality between our two videos, and it's good to see that our team is improving and moving in the right direction. We've also managed to spot a lot of places where we'd make changes if we were to remake our first video again. It's surprising how far we've come in the space of three months, and we're all looking forward to making our next project our best ever!
Read the original article at Habrahabr.ru.